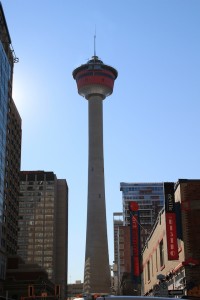 DESCRIPTION:
Every building tells a story. Calgary's downtown core spins a yarn of a brash frontier town that has grown into a lively urban center where you can literally stand with one foot in the past and one in the present – and follow a "ribbon of steel" through the heart of the city.
As you explore Stephen Avenue Mall (no cars allowed 6 am to 6 pm) and the Bow River Pathway, you'll have an on-the-ground experience that Google Earth could never deliver.  You'll find out where Calgarians go for fine food and dining. (We'll show you how to go back later on public transit – it's free in the downtown core). You may hear the echoes of history at the site of an 1880s saw mill and the location of the 1988 Winter Olympics awards ceremonies – and perhaps modern day music from the Folk Fest held on Prince's Island Park.
We walk at a comfortable pace and make several stops, including bathroom breaks as needed.
DURATION: Approx. 2 hours | LEVEL 1: Easy | GROUP SIZE: 8 (For larger groups please contact us to plan your tour)
STARTS AT: Calgary City Hall Municipal Plaza.
ENDS AT: Within two blocks of the starting point.
PRICING:
General Admission (18-64) – $18 per person
Golden Ager (65+) – $15 per person
Youth (8-17) – $15 per person
Little Ones (0-7) – FREE!
For Custom Tour rates, group booking rates (8 or more), and family rates, please contact us.
SCHEDULE: You can view our current schedule for both 10AM and 1:30PM tours by selecting either of the following buttons:

Are you a group of 8 or more? Please contact us to book your tour.
Are you a school, art college, or other group? Please contact us to book your tour.
CalgaryWalks requires each participant to complete a liability waiver in addition to registration. If you would like to view or print the waiver, you may do so here. Your guide will also have copies available prior to your booked tour.