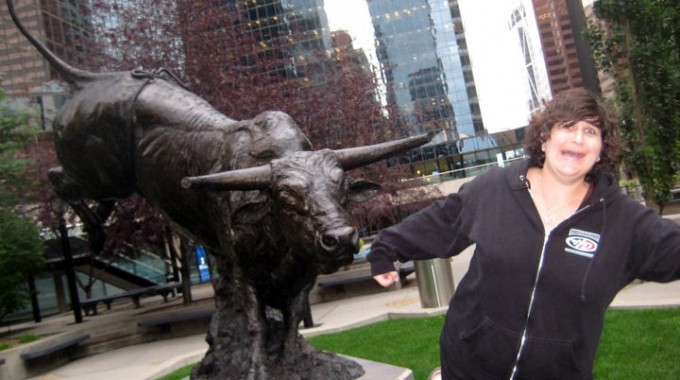 Ask Our Guides: Shellie's Top 3 Favourite Highlights on Tour
Our CalgaryWalks guides have what they think is one of the most fun jobs in the world. Every day (weather permitting), we get to show off Calgary to people from all over the globe (and even from our city), and make new friends while doing it.
This week, we've asked our guide Shellie, what her three personal favourite spots on our Downtown Intro  Walking Tour are, and why. Here's what she has to say:
1) The lion in front of City Hall that used to sit on Centre Street Bridge. It is hard to really explain this in a smart way other than I just love the way he looks and the fact that he is the only survivor out of 4 that is not crumbling. He is the strongest one that has withstood over 80 years outside in the elements. Plus, I had the chance to travel to London this past year and see the original that inspired him and learn more about that so I feel more connected to it.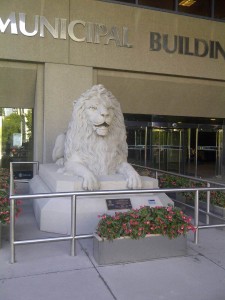 2) The Wonderland sculpture in front of the Bow Building. Probably because it is shiny and new. But that the same time I love how when you go inside of it and line up just right the face now looks like it the face is now on the inside. M.C. Escher is one of my favourite artists because of his amazing creation of optical illusions and that is what I like about this. When you cross the street towards the Calgary Tower and look back it is an entirely different piece again.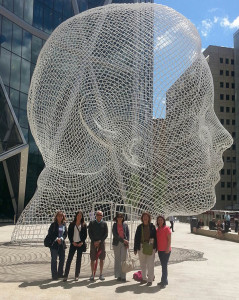 3) Chinese Cultural Centre in China town. I tend to do the story about what is inside before we go in because when I take guests inside I just want them to take it in. I love the reactions from people. If you have never been, and do not know what I am talking about, it is the hand painted ceiling with the dragons and phoenixes, with the columns and everything. It is incredible. It is still my overall favourite spot on the tour for myself and watching the guests react. Absolutely incredible.